NEXTpin™ Microarray Deposition System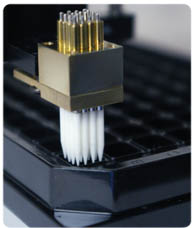 HIGHLIGHTS
- 20 to 50 times faster than 1 pin deposition with sample pick-up.
- Parallel deposition of 16 clones in a square shaped well (size ~7x7 mm)
- Parallel deposition of 9 clones in a round wells ( diameter ~6 mm ).
- Each pin keeps sample for 1000 spots from a single load.
- Replaceable on-the-run 16-pin heads for printing hundreds of different samples
- No wash and pickup necessary - saves time.
- No chance for sample cross-contamination.
- Composite metal-ceramic pins equally effective on glass, plastic and membrane surfaces.
- Available for all Xact, XactII and THOMAS microarray systems.
- Custom installation kits are available for microarrayers of other vendors.
Watch NEXTPin Movie Clip (1 min, 3.5 MB .WMV)
---
CONSTRUCTION
NEXTpin™ comprises of a head holder and multiple 16-pin print heads. Pin spacing is 1.7mm.

Each print head can be quickly replaced by hand in the middle of a print run. (Microarrayer makes necessary stops for replacing print heads.)
| | |
| --- | --- |
| | Precision guides assure uniform positioning of the print heads in the head holders and allow simple lift-and-drop replacement. Accuracy of positioning is ~0.02mm. |
---
APPLICATION
With four NEXTpin™ print heads equipped with 64 pins 64-clones array can be deposited in each well of 96-well plates in just 8.5 minutes.
Making the same array with one pin using pick-up and washing operations takes about 3 hours.
The NEXTpin™ system gives even more advantages when many microplates installed in the microarrayer. From one sample load each pin can deposit 1000 spots - enough for printing inside wells of ten 96-well plates installed in the microarrayer.

Spots shown at the scheme above are 0.3mm diameter. Shift from one head print to another is 0.5mm
Walls of the wells limit operating area of the pins. Plates with lower walls or flat substrates can accommodate up to 256 (16x16) spots in the 7x7 mm zones.
| | |
| --- | --- |
| | Round wells of 96-well plates provide less area compare to square shaped wells. With NEXTpin™ nine spots can be deposited at a time on the bottom of a typical round well ~ 6mm diameter |
---
HIGH VOLUME MICROARRAY DISPENSING
| | |
| --- | --- |
| | In case more that 1000 spots need to be deposited in one print cycle the NEXTpin™ system can be equipped with tubes connecting pins with external reservoirs for each sample. Using externals reservoirs NEXTpin™ system gives unlimited microarray dispensing capabilities. |
---
Xtend NP™ PRINT PINS
NEXTpin™ system is equipped with Xtend NP metal-ceramic microarray pins specially designed for that purpose.

Unique square shaped collars of the pins prevent them from rotating. Pins feature tubular construction with inner chamber enough for 5 uL of sample. Samples are loaded manually in the pin using syringe or pipette.
NOTE: Xtend NP™ are not compatible with the Xtend, Xtend MP microarray print heads. They require Xtend NP print head.
Xtend NP™ pins are not compatible with print heads manufactured by TeleChem or other vendors.
---
SPECIFICATIONS
Xtend NP Microarray Pins
Part Number

Tip Diameter

Number of spots per 20x70mm chip area

Deposition volume GLASS/MEMBRANE

Uptake Volume

Loaded manually

Number of spots per pick-up GLASS/MEMBRANE

Number of prespotting hits required GLASS/MEMBRANE

027-140

0.14 mm

up to 35 000 spots

1nL / 5nl

5 uL

5000 / 1000

2 / 1

027-200

0.20 mm

up to 22 000 spots

1.8nl / 8nl

5 uL

2700 / 1000

2 / 1

027-300

0.30 mm

up to 9 000 spots

2.2nl / 10nl

5 uL

2500 / 500

2 / 1

027-350

0.35 mm

up to 7 000 spots

3nl / 15nl

5 uL

1600/ 350

2 / 1

027-500

0.5 mm

up to 1500 spots

5nl / 25nl

5 uL

1000 / 200

2 / 1

027-700

0.7mm

up to 1000 spots
7nl / 35nl
5 uL
700 / 150
2 / 1
Smaller diameters allow more dense printing. Best suited for high capacity scientific microarrays.
Larger diameters produce bigger spots with more integral intensity of the fluorescent signal thus providing better dynamic range of the experiment. Best suited for low density diagnostic microarrays and experiments with low expressing genes.

---
PRICE
Part #

Description

Price

127

Xtend NP™ Microarray Deposition System

Includes:

- Xtend NP™ Head holder (1 piece)

- Xtend NP™ 16-pin Print Head

- Xtend NP™ Microarray Pins (16 pieces)

$4200

027 - _ _ _

Xtend NP Pins (all diameters)

$200

227 - 16 NP
Xtend NP™ 16-pin Print Head

$500
* Indicated prices are for direct sales from LabNEXT. On some markets LabNEXT sells only through distributors. Distributor prices may vary significantly. Please check our
Order
page for distributor list and other ordering information.