XactII™ Compact Microarray System
Full-featured microarray system meets mid-range throughput requirements for printing microarrays of various soluble molecules on glass, plastic, membrane substrates and onto wells of microplates. The system applications range from personal use to mass microarray production.

XactII microarrayer is a versatile instrument. It can be equipped for slide or plate printing. Changes in the configurations are done in the lab. The microarrayer software also allows using virtually unlimited variants of custom labware and substrates (custom holders needed). Xact microarrayer can use either LabNEXT Xtend or Xtend RM pins or pins from other vendors, giving options for selecting best deposition technology for a particular experiment. In mass production, low density microarrays applications utilizing the NEXTpin™ parallel deposition system increases throughput multiple times versus conventional one-by-one sample deposition. Note: Xact II Microarrayers are produced in the EU and in the US. Due to parts availability XactII Microarrayer produced in the US slightly differ from the one produced in the EU. Differences include color and construction of the cabinet and a few parts in the linear motion system. All performance, accuracy and electrical parameters are identical for both EU and US made versions. Both versions work with the same software.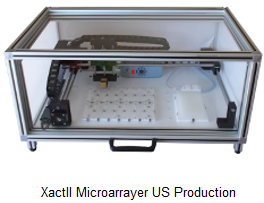 HIGHLIGHTS
- Compact and portable. - Fast and versatile. - Can be converted in the lab for glass slide or microplate printing. - Features all options available in the high-end systems - precision, humidification, sample cooling - Low heat emission in the operational area. - Choice of microarray pins - proprietary or 3rd party vendors. - Prints up to 25x25 spot arrays on bottom of standard 96-well plates with Xtend metal-ceramic printing pins.
PRICING
NOTE: Currently only the US manufactured version of XactII is available.
| Part Number | Name | Price | Includes |
| --- | --- | --- | --- |
| 001A | Xact II (Glass Slide configuration) | $14000 | - Microarrayer- 4 Xtend Pins (any diameter) - Peristaltic Pump - Control Software - Slide Holder for 14 slides |
| 011A | Xact II (Plate printing configuration) | $14000 | - Microarrayer- 4 Xtend Pins (any diameter) - Peristaltic Pump - Control Software - Plate Holder for 2 plates |
| 140 | Humidification Option | $600 | Electronic Humidifier |
* Indicated prices are for direct sales from LabNEXT. On some markets LabNEXT sells only through distributors. Distributor prices may vary significantly. Please check our
Order
page for distributor list and other ordering information.
SPECIFICATIONS
Performance
- Printing Method: Contact printing. Proprietary head and printing pins are available. The system can accommodate heads from other vendors. - Number of printing pins: 1-16 in various patterns with the standard LabNEXT printing head. The control software can work with any printing pattern in case of using printing heads of other vendors. - Pins spacing: 4.5 mm, 9 mm for 384 and 96 well plates correspondingly. - Slides capacity: 14 slides. Any number of them can be used for pre-spotting. - Source plates capacity: 1 plate. - Source plates formats compatibility: 96, 384, 1536 plates - Slide locks: independent. The system can accommodate from 1 to 14 slides in any positions. - Pins cleaning technology: fluid stream washing, vacuum drying. - Print layouts: up to 3 identical microarrays at a slide. Pick-up and spotting repetitions. - Throughput: 40 sec per print cycle (Print cycle: Wash, Dry, Pick-up, Pre-spot, Deposit at 13 slides). 384 well plate can be printed in 7-8 min with 16 pins - Environmental Control: on-board electronic humidifier (optional item). Maintains relative humidity inside the system cabinet in the range of 40-80% with 2% precision. - Sample Cooling: Cooling source plate holder (optional item).
Mechanical
- Accessible operating area: L 295mm, W 170mm, H 70mm - Resolution: X, Y - 0.002 mm, Z - 0.005 mm (spacing between two nearest possible spots) - Absolute accuracy: X, Y - 0.05 mm, Z - 0.01 mm. (accuracy of positioning the most remote from the origin spots within the work area) - Repeatability within the same run: X, Y - 0.006 mm, Z - 0.01 mm (accuracy of returning to the same spot without run interruption.) - Repeatability after run interruption: X, Y - 0.01 mm, Z - 0.01 mm (accuracy of returning to the same spot after the system has been stopped and re-initialized)
Environmental
- Dimensions: W 18" X D 14" X H 9" (457mm X 355mm X 229mm) - Power supply: 110V-220V AC - Lab facilities: Vacuum. Portable vacuum pump can be used. Pump performance L/Min(cfm): 25 (0.88) - Computer interface: USB - Computer requirements: Windows 10, 8, 7, XP, 2000 with one USB port.