B00scara™ Ultra-compact Cleanroom Microarrayer
SCARA (Selective Compliance Articulated Robotic Arm) motion system allows numerous advantages over traditional Cartesian or Gantry schemes. It allows packing the system in smaller footprint and reducing transition path between the labware installed on the work board. All moving, electronic and corrosive parts of the system are enclosed under protective covers. Exposed parts are made of inert plastics. B00scara™ allows very low particle, dust and heat emission. The system does not have its own cabinet and ideal for installation in the cleanroom environment or inside a protective cabinet or laminar hood. B00scara™ runs on built-in computer. It can be installed in the "headless" configuration ( no monitor, keyboard connected ) which will reduce number of cables running to the arrayer. It can be controlled via WiFi network.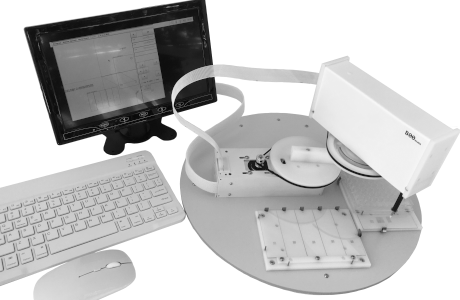 HIGHLIGHTS
- Out-of-the box operation.
see the manual
- No external PC required. - Ultra-compact and portable. - Prints on glass slides or onto bottoms of 96w-microplates - Can be configured for working with custom labware. - Samples cooling option available. - Low heat and dust emission - Choice of microarray pins - Xtend™ or 3rd party vendors. - Visual Control and Program Editing software.
see the manual
PRICING
| Part Number | Name | Price | Includes |
| --- | --- | --- | --- |
| B00-010 | B00scara™ Microarrayer | $7000 | - Microarrayer- 2 Xtend Pins (any diameter) - Peristaltic Pump - Control Software - Program Editor Software |
| B00-091 | Microplate Cooling Option | $600 | Microplate Cooling Holder |
* Indicated prices are for direct sales from LabNEXT. On some markets LabNEXT sells only through distributors. Distributor prices may vary significantly. Please check our
Order
page for distributor list and other ordering information.
SPECIFICATIONS
Performance
- Printing Method: Contact printing with Xtend™ microarray pins. Custom heads for pins of other vendors are available.. - Number of printing pins: 1 - Slides capacity: 5 slides + 1 prespotting slide - Source plates capacity: 1 plate. - Source plates formats compatibility: 96, 384 - Slide locks: independent. The system can accommodate from 1 to 5 slides in any positions. - Pins cleaning technology: fluid stream washing, vacuum drying. - Print layouts: Practically unlimited regular or irregular patterns - Throughput: 30 sec per print cycle (Print cycle: Wash, Dry, Pick-up, Pre-spot, Deposit on 5 slides). - Sample Cooling: Cooling source plate holder (optional item).
Mechanical
- Accessible operating area: Ring - Min Diameter: 60mm Max Diameter: 156mm, Height 35mm - Resolution: X, Y - 0.05 mm, Z - 0.05 mm (spacing between two nearest possible spots) - Absolute accuracy: X, Y - 0.05 mm, Z - 0.05 mm. (accuracy of positioning the most remote from the origin spots within the work area) - Repeatability within the same run: X, Y - 0.05 mm, Z - 0.01 mm (accuracy of returning to the same spot without run interruption.) - Repeatability after run interruption: X, Y - 0.05 mm, Z - 0.05 mm (accuracy of returning to the same spot after the system has been stopped and re-initialized)
Environmental
- Dimensions: Base diameter: 12.6" X H 7.8" ( 320mm X 200mm ) - Power supply: 110V-220V AC - Lab facilities: Vacuum. Portable vacuum pump can be used. Pump performance L/Min(cfm): 25 (0.88)